POLLO del VALDARNO
razza VALDARNESE BIANCA
All'inizio del secolo era il pollo allevato nella Valle dell'Arno superiore ed in Chianti, oggi questo animale dal mantello nero è scomparso. Il gallo nero che campeggia nello storico marchio del Consorzio del Vino Chianti Classico è un rappresentante della Valdarnese d'origine. La Valdarnese di oggi ha mantello completamente bianco. E' allevata allo stato semibrado per i campi. I galli sono alti, slanciati, di coscia grossa e petto piccolo, raggiungono il peso di 2-2,5 kg. Hanno piumaggio bianco che con il passare del tempo tende al frumentino, coda a ciuffo con falciformi brevi, cresta rosso sangue, portata eretta con cinque o sei denti, bargigli molto sviluppati, orecchioni color crema; becco, zampe e pelle gialli. Le galline sono più minute (1,5-2 kg), hanno la cresta piegata da un lato e producono uova dal guscio bianco avorio. Crescono lentamente e arrivano al peso ottimale dopo 6 mesi. La loro carne è ottima, perfetta arrosto o alla griglia quando sono più giovani, migliore in umido e lessa quando sono vecchi. Straordinariamente saporite anche le uova: il guscio è più fine rispetto a quelle industriali, mentre il tuorlo è molto più grande e ha un colore giallo intenso.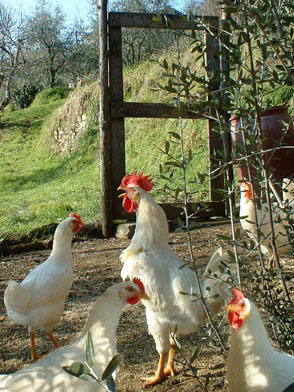 VALDARNESE WHITE CHICKEN
AT The beginning of the century it was the chicken variety being bred in the Arno Valley and Chianti area. Today this animal with the black mantle has disappeared. The black rooster is the symbol of the Consortium of Classical Chianti Wine, it represents the Valdarnese origin. Today the Valdarnese chicken has a completely white mantle. It's raised free-range. The actual Valdarno has yellow meat and white- shelled eggs. The roosters are tall, slender, with big thighs and a small breast, they weigh up to 2-2,5 kg. They have white plumage that turns to a wheat-like colour in the tail to head strip, an erect red blood crest, with five or six points and very developped wattles. Beak, legs and skin are yellow. The hens are smaller 1,5-2 kg, their crest is folded down to a side and they produce eggs with white ivory shell. They grow slowly and they reach the optimal weight after 6 months. Their meat is excellent, perfect roasted or grilled when they are younger, better braised or boilled when they are older. the eggs are extraordinarily tasty: the shell is thinner compared to the industrial ones, while the yolk is bigger and is more yellow.